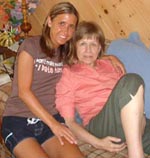 On September 15, 2006 my mom, Sophie Chuchmach lost her battle with rectal cancer. Unfortunately for us her friends and family, she ignored the early symptoms and warning signs of this very treatable disease. With increased awareness, education and early screening my mom could still be with us today.
When my mom was finally diagnosed, I was devastated, I felt helpless and afraid. As a way of dealing with my grief I ran. And ran, and ran and ran, trying to escape. Alone with only my thoughts for hours at a time it allowed me to reflect on this tragedy taking place in our families' lives. Although my mom's cancer was diagnosed late and in an advanced stage -- she never once gave up. She battled and fought for every day she lived with the disease. Her determination inspired me.
My mom ultimately lost her battle but I couldn't let that be the end. I am devoted to carrying on her fight. My mom's story is a lesson for everyone. Education about and public awareness of the signs and symptoms of colorectal cancer will save lives. This is now my charge, my obligation, my goal. I want the lesson my mom and my family had to learn so painfully shared with others before it's too late.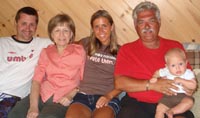 I am going to continue running. From our hometown of Milton Ontario to New York City, my run, "Sophies' Run", to honour the memory of my mom and let people know that colorectal cancer can be beaten. Town by town, person by person I'm going to share my family's story. Early detection and treatment are the secrets to keeping our loved ones with us longer. With your support we will raise awareness, we will encourage testing and we'll share these secrets far and wide. I invite you to take part and do what you can to spread the word -- Colorectal cancer is a beatable disease.